It's only been a month since we published our SPACvest 2022 Review, where we noted that quite a few companies were teetering on bankruptcy.
We've had a cascade of failures, reverse splits, delistings, and bankruptcies in the last 30 days. Thirty companies moved to our "Near Death" worksheet with new 5-letter symbols, 1/100 reverse splits, or bankruptcy. Rockley Photonics $RKLY is one of note since we did a lot of work on that one. The CEO convinced many investors to buy the stock with stories of large "Tier 1" customers about to sign, including companies like Cisco $CSCO and Apple $AAPL. Fortunately, we could trace the location of their "special material source" to a single-family home in Colorado which was a non-starter in terms of a global foundry supplier!  
We've also had some big recent winners that will get their own story - or become wonderful shorts for 2023.
This is our quarterly update of the entire SPAC universe. After some highlights, paid members can download the entire PDF report to peruse and the Excel Workbook to do their own filtering and analysis. You may also add your own plugin analytics to the worksheets, or if you use YCharts, you can contact us, and I'll send the "instrumented" version.
If you are a "just want the spreadsheet" type of person, you can access it in the SPACvest client folder via the SPACsplorer page.
[If you are new to us or need a refresher around our glib views of the industry, our role in it, usage and copyright rules, and important disclaimers, please see our Anti-Legal Page.]
Starting with the Recent Winners
January ushered in a storm of "risk on" behavior that drove some of the speculative names. It probably caught some shorts flat-footed as well. There's also a wave of "ChatGPT" fever going around and lifting just about any stock that can associate with it. Investors first jumped on C3.AI $AI, a regular IPO with the best symbol. BigBear.ai $BBAI caught some of the magic and shot up 6x last month.
Elsewhere on the winner's list, there's Taboola $TBLA which inked a relatively large partnership deal with Yahoo. This is probably a melting ice cube, but they might do something with ChatGPT like Buzzfeed $BZFD did and run the stock higher.
Symbotic $SYM is a stock we're following, and they reported a strong quarter. They do warehouse automation. My concern has been that their approach only works for the very largest of customers, think Walmart $WMT. That limits the market size of customers and makes them less of a product company and more like a systems integrator. There are no easy solutions here, so it's an area to keep digging into. There are also established players like Rockwell Automation $ROK to contend with.

Many of these companies have artificially low floats due to the massive redemptions on the way to their SPAC IPO. Combined with high short interest, it can create huge volatility. If shares go up, many companies file massive stock offerings for selling shareholders desperate to get out.
Losers Abound
This rising tide did not come close to lifting all boats. I removed the 30 dead or dying names from our list into their own sheet. What's left is still pretty weak.
I've done some work on some of these. FaZe $FAZE was a retail-driven train wreck we published on: FaZe Clan Chaos. Quantum computing is a space I worked on about 10 years ago, and it included a deep dive into D-Wave $QBTS. It's fascinating stuff, but nobody knows whether it's a business.
I liked some things about Vacasa $VCSA as a user and wanted to like it. Unfortunately, their model was wildly unprofitable as a business. If they can change it, maybe it's worth a second look. It seems like a name that might fit with Expedia $EXPE, which acquired VRBO.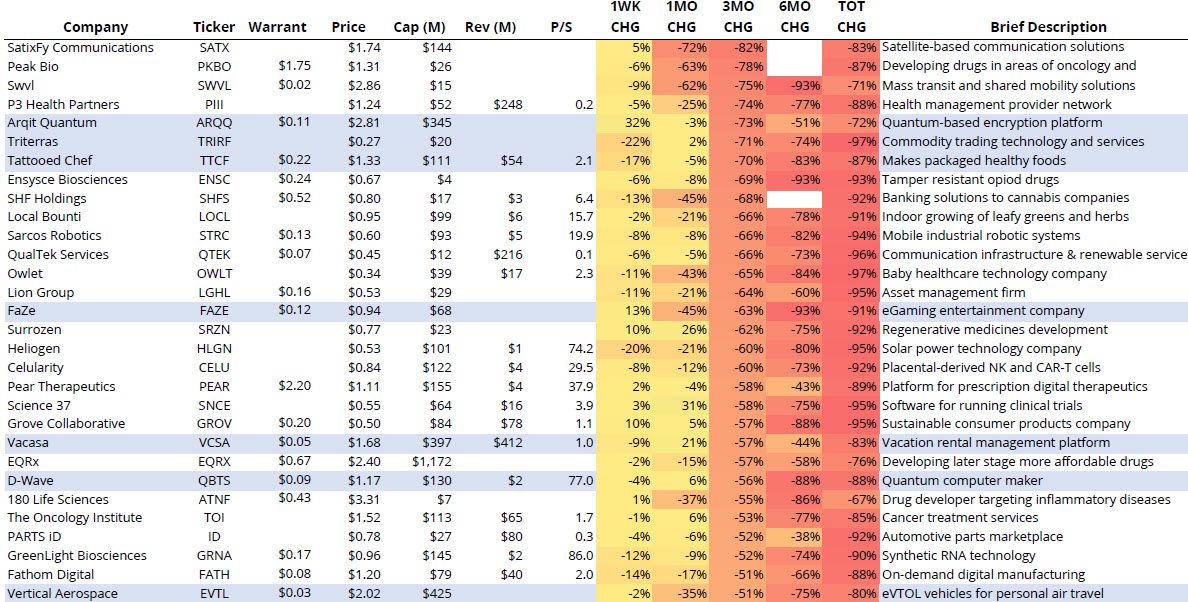 I expect to find at least a few names to work on the losers list because many companies have no analyst coverage. Tim Hortons China $THCH is a good example of what can happen when nobody is looking.
Notes on the PDF and Excel Workbook
The PDF is various sorts of the universe: by performance over 3 months and IPO-to-date, market cap, and sector. There's an alpha sort at the end that works as an index. It's in landscape format. Please let us know if you have other thoughts on the presentation or format. We may also try making it a Google Sheet as a test.
Blue shading indicates that I have done some work on the company. There's a broad range, though. It could include a company I have researched, met with, modeled, and published down to just spending enough time on publicly available materials and filings to grasp the fundamentals. If I've been long or short the individual stock for whatever reason, I also shade it blue.
Next quarter we may get fancier and use different hues or colors to provide more context. Two "extra" reports at the end are more readable versions of the 3-month performance names.