Cummins $CUM is spinning out its Atmus $ATMU filtration business using a traditional IPO marketing program. Goldman and JP Morgan have the books with an initial range of $18 to $21.
TL;DR Atmus is a ~$1.6B filter provider that goes into heavy-duty trucks with modest stable growth and ~18% EBITDA margins. At the mid-point of the range, the valuation is 1.3x sales and 7.2x EBITDA. It's cheap enough to work.
Deal Facts: 14-16M shares, depending on the green shoe. 83M shares outstanding post-IPO, with Cummins owning 69M.
The Atmus Story
An industrial products company must pay marketing folks to help with the new corporate identity. The new CEO points out that the new logo includes "an arrow pointing up."
Even with the arrow, this is a mature business centered on filtration systems for on-road and off-road trucks. The company was founded in 1958 and now has 4,250 employees and is a clear leader in the filtration market for on-road and off-road heavy-duty trucks. All the major makers are customers.
There are a lot of filters in these vehicles for air, fuel, lubricants, and other fluids. Aftermarket prices and margins are generally very attractive since the cost of a filter is relatively small and not worth the effort and risk of using lower-priced versions.  
The near-term growth strategy is to continue to grow and improve the core business by growing share in more profitable product segments and aftermarket components while improving their supply chains and overall efficiency.
Like other mainstream suppliers, Atmus sees the evolution from ICE to fuel cells, battery-powered, and hydrogen vehicles. They have introduced products that serve their existing base of customers who are also moving into these new vehicle types. We see this trend across the vehicle ecosystem, with companies like BorgWarner $BWA using this trend to sustain growth.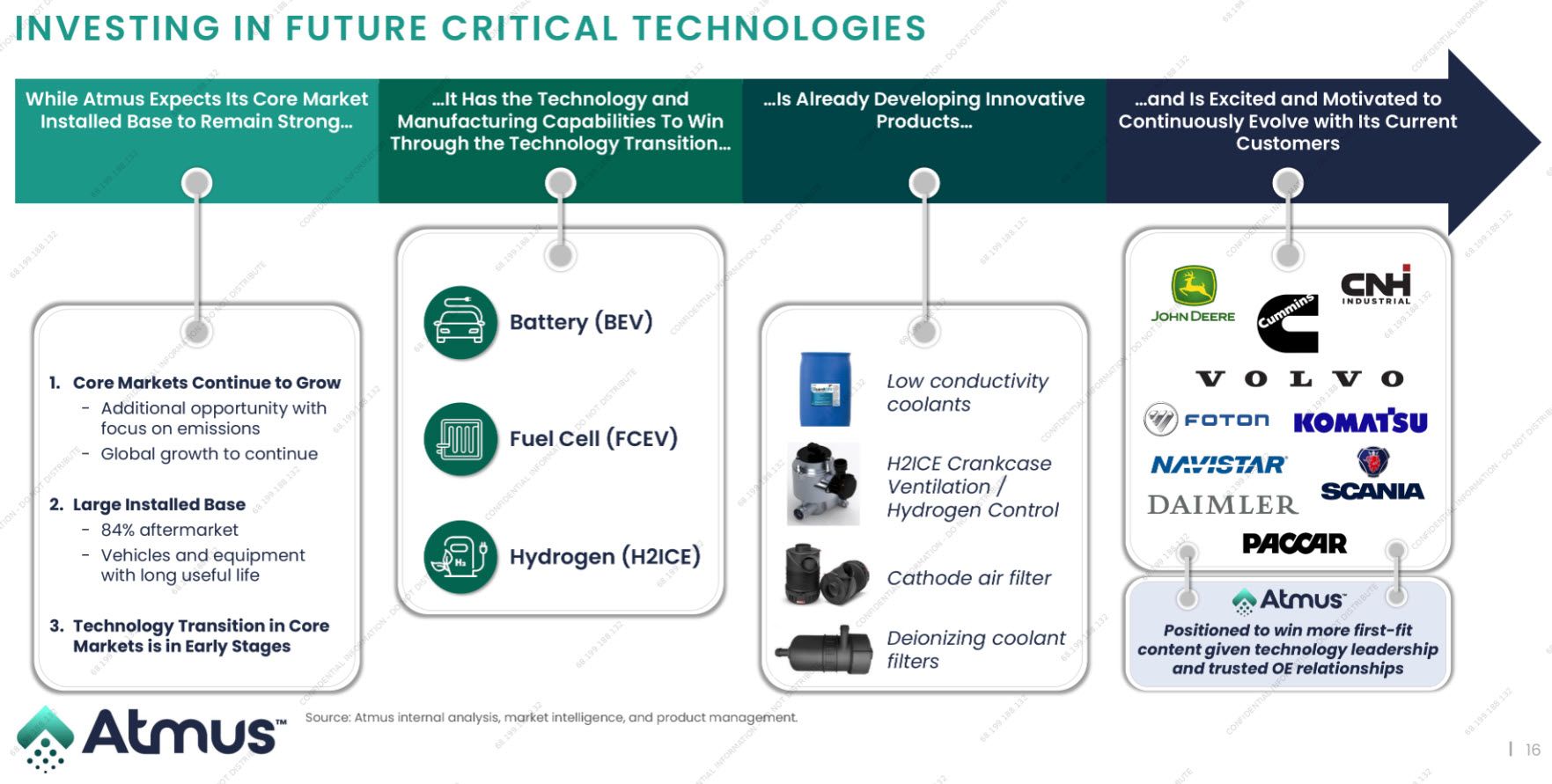 The company has an interesting longer-term opportunity to expand outside its traditional core market. As part of Cummins, they focused on the same markets Cummins served. Now that they are independent, they can go after opportunities in the much larger industrial filtration market.