Fast-casual Mediterranean restaurant chain CAVA $CAVA is en route to its IPO in ~two weeks. By the end of this year, they plan to expand their current footprint of 263 restaurants to 300 in 24 states.
Reviews of the chain are generally quite positive, and one reviewer described it as "like Chipotle, but with Greek/Mediterranean type food." Some diners complain that the prices are high for what you get, but that's become true of most places in 2023.
CAVA acquired Zoe's Kitchen in 2018 and has split reporting into "total" and "CAVA" to describe the surviving business better. They bought Zoe's to convert their locations over to CAVA. The CAVA business is growing faster and more profitable, so they will direct investors to those numbers.
For 2022 "CAVA Revenue" was $449M, and "CAVA Restaurant-Level Profitability" was 20%. So far, in 2023, growth has been strong, and profit margins are expanding.
However, if you look at the income statement, you'll see 2022 revenue of $564M and a loss of $60M.
In addition to being a restaurant chain, the company has built a CPG business around selling its brands in grocery stores. They are in 650 outlets so far and believe that this strategy aids in building brand awareness. I'm not sure I think that, but we will revisit the idea when there are more numbers to review.
Market Dynamics & Competition
Chipotle's $CMG is not an unreasonable comparison, but the CAVA menu is more akin to the still-private CoreLife Eatery to me. It's also reminiscent of a failed chain called Cosi which came public in 2002 only to file for Chapter 11 in 2014. The re-emerged owned by private equity in 2017 before filing again post-COVID.
There are two levels of competition for CAVA to navigate. The first is among the direct competitors like CoreLife that offer similar food and experience. I'd put other chains like Panera in this category. There are also many regional players with a similar approach, like LYFE Kitchen, Tender Greens, and Sweet Green $SG.
Then there is a broad ocean of fast-casual eating, including everything from McDonald's $MCD to Texas Roadhouse $TXRH to Chick-fil-A. These companies compete for the consumer gullet and the resources and labor to feed them. The labor market has been particularly challenging for the industry.
A weaker economy and higher crop yields indicate a better cost environment for operators in 2023. Consumers have been lowering their standards in the face of higher prices. This is an area to watch for the rest of 2023.
Valuation & Stock Thoughts
Comparable valuations are all over the map. Even among the large players, you can drive a truck through Chipotle at 6x EV/S, 45x PE, and Cheesecake Factory $CAKE at 1x and 11x. (!)
Taking a step back, I'd say that the management team has executed well, and there are solid trends regarding same-restaurant growth, new restaurant openings, digital channel leverage, and increases in restaurant-level profit margins.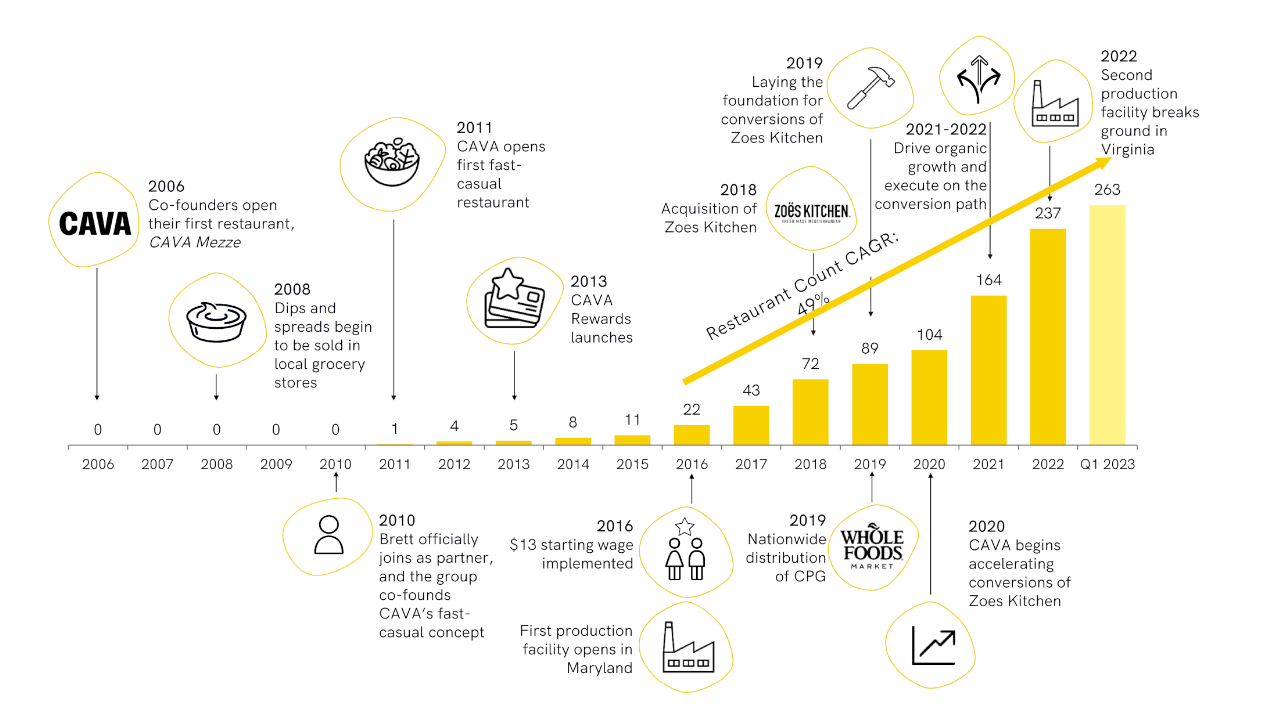 Using $600M in revenue and $60M in AE, I can imagine this trading at 2-3x revenue and 20-25x AE. Average it all out, and you get to $1.5B.
We may publish an update on CAVA after an updated prospectus and the roadshow is underway.